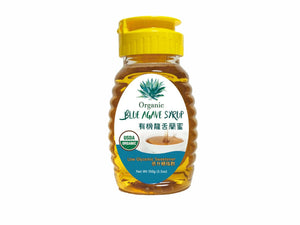 Organic Blue Agave Nectar
Regular price
$42.00
Sale price
$48.00
Unit price
per
Organic Blue Agave Nectar
100% PURE AND ORGANIC – Best Substitute for High-Fructose Corn Syrup as it is All Natural, Organic, Gluten-Free, Kosher Certified and Contains No Harmful Additives and Artificial Flavorings.


LOW GLYCEMIC INDEX – Compared to Regular Sweeteners, our Raw Agave Nectar Contains Fructose that Does Not Cause a Rapid Rise and Subsequent Large Fall in Blood Glucose Levels, Which Means It Has a Low Glycemic Index (GI).


THE PERFECT SWEETENER – Since it Dissolves Quickly, Our Organic Raw Blue Agave Syrup Makes an Ideal Sweetener for Cocktails, Hot and Cold Beverages, Oatmeal, Pancakes, Cereals, and More.


BETTER THAN SUGAR – Raw Agave Nectar Consists of 75-90% Fructose Compared to Just 50% for Table Sugar, so it is 1.5x Sweeter and You Can Use Less When Baking, Cooking, and Making Sweet Beverages.


SAFE FOR DIABETICS – When Consumed in Moderation, Agave Nectar is Safe for Diabetics as it has Low Glycemic Index That Helps Manage Blood Sugar Levels.
---
Share this Product


---